THE PREMIER TRANSFORMATIONAL SPEAKING PROGRAM
CREATED BY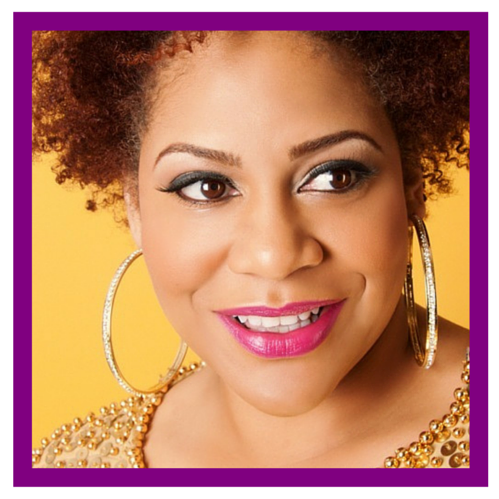 KIM COLES
Actress, Comedian, Host, & Speaker
Speak Your Gifts is an exclusive 6-week experience that takes you on a journey to help you build your confidence, uncover your gifts, and create a speaking career you love.
A MESSAGE FROM KIM COLES
Actress, Comedian, Host, & Speaker
"I believe EVERYONE has GIFTS. When you show up for yourself and share your authentic message you give others permission to speak their truths. I can show you how sharing your story and your gifts will be healing for you and others so you can make great impact in the world. "
ARE YOU STRUGGLING TO FIND YOUR PURPOSE?
You've got a nagging feeling that just won't quit – a yearning to show up for yourself and find your purpose.
Sure, you could stay where you are and keep going with the motions.
You could keep hiding out and pretending like there's nothing special about you and your gifts.
You could even continue flipping through the dozens of pages in your notebook and imagining what it would be like to see your words in print one day.
But, you and I both know that you can't keep passing through life and denying your true desires. You know you won't be satisfied until you finally tell your story, which is really your life's testimony!
You don't necessarily believe in regrets, but it's a sure bet that if you don't give into your speaking aspirations, you'll never know how you could help people heal themselves or even change the world!
Yes, you can hold back and continue quieting the voice within that's begging to escape...
Or, you can cast away your doubts, step into your divine gifts, and give yourself permission to speak your truth.
IT'S TIME TO Speak Your Gifts!
Imagine the pure joy and satisfaction you'll feel when you finally tap into your gifts!
Speak Your Gifts is for you if...
You want to share your life's story but you're stuck not knowing where or how to start. For once in your life, you're ready to to get bold, speak your truths, and reveal your authentic message.
You've looked into or tried other courses to help you build the confidence and presence you need to speak before an audience. So far, you've found nothing that's inspired you to go inward, dig deep, and transform you into a public speaking powerhouse.
You realize the time is NOW to invest in yourself and your dreams! You're not letting anything stop you from stepping into your destiny!
Whether you're a seasoned speaker ready to uplevel or a newbie who has never spoken in front of an audience, I created this program to meet you wherever you are in your speaking and storytelling journey.
Believe it or not, I'm just like YOU.
Even though I've been in the entertainment business for over 31 years, I've always been inspired to reach and grow beyond the stage and screen. Now I'm launching this new chapter in which I'm reaching out to empower, inspire, and serve others.
You see, I'll be completely transparent with you. I've been on a personal journey for the last couple of years to find more PURPOSE and PASSION.
Don't get me wrong. I was happy. But I didn't feel fulfilled.
You know how you get that feeling that there may be MORE out there? Or I should say more "IN" there? You know that feeling when you wonder if you are living up to your fullest human potential? This has nothing to do with WHAT we do for a living but everything to do with WHO we are in our spirit and soul.
In my personal quest, I found that there indeed was more inside that I wanted to share. This came after a very difficult transition and depression that I went through. The hit TV show that I was on, Living Single, got cancelled and after a few years went by, I had no job and no clarity.
So-called "fame" couldn't protect me or make me feel better. All I did was shop and sleep…a lot.
I must confess…
I shopped through all of my money. It was a dark time filled with feelings of low self-worth and constant calls from credit card companies.
As I began to pull myself through it, with a little bit of therapy and whole lot of prayer...
I realized that I needed to use my GIFTS even more fully.
I wanted to reach past the acting, standup comedy, the red carpet or waiting for another hit TV show to come along.
When I say GIFTS, I mean those exceptional qualities that we EACH have inside of us.
My GIFTS are love and laughter and seeing the magnificence in others.
So I decided rather than wait for opportunities to come my way, I would simply serve others and share my stories by using my GIFTS.
This brought me to the world of public speaking.
As I was on my own journey to finding my way, I started healing myself and inspiring others with each new principle, tool, and technique that I learned along the way.
Now, you might think that it would be seamless for me to transition from acting and stand-up to speaking, but it wasn't really. There were opportunities that got me in the door because of my name, but once in there I still had to prove myself in order to stay relevant and keep getting booked.
After several years as a national and international speaker, I happy to say that I've given talks in front of people in many types of venues from school auditoriums to grand hotel ballrooms and giant stages.
I've spoken for small community projects and large corporations. And no matter what, I show up as my authentic best self.
As I continue to make my way on this journey, I've come to realize the top questions people ask are...
How can I become a speaker?
What do I need to prepare?
How can I get booked?"
Because I don't believe in secrets or holding anything back, I'm peeling back the curtains and showing you exactly what it takes to build your confidence, uncover your gifts, and create a speaking career you love!

WHEN YOU SIGN UP FOR 6-WEEKS OF
SPEAK YOUR GIFTS...
You'll be a part of an exclusive small group mentorship with Kim Coles and collaborate with other ambitious, soulful people who are ready to build an empowered movement around their unique gifts and core message.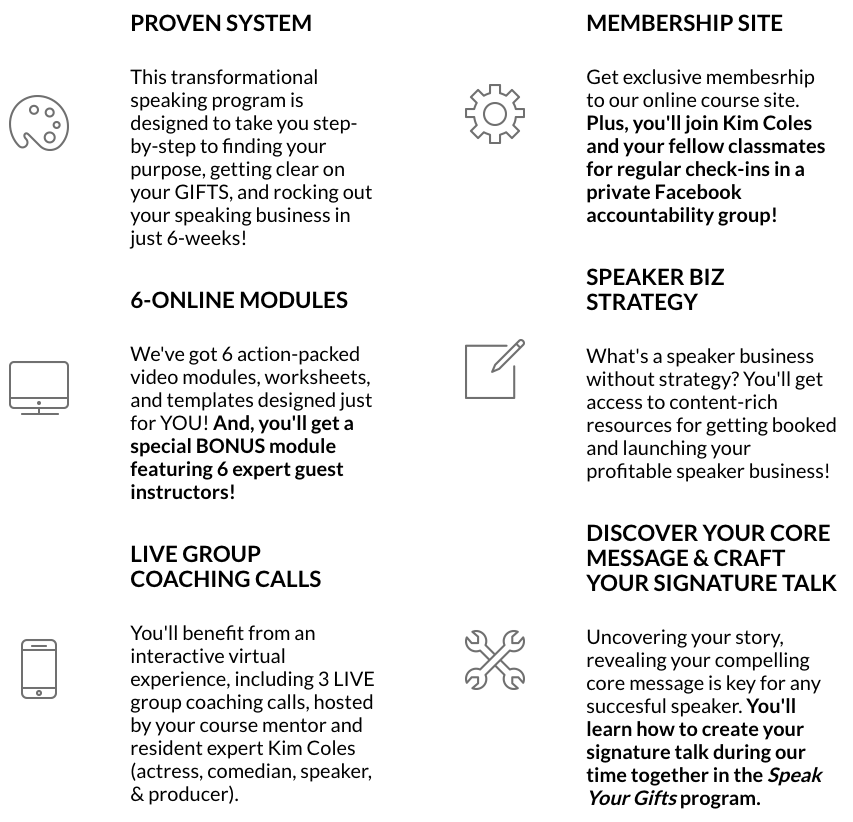 WHAT STUDENTS SAY ABOUT
Speak Your Gifts.
Speak Your Gifts Student - Tepsii (Soulful Business Coach + Copywriter)
"I thoroughly enjoyed Kim's Speak Your Gifts course! It was very informative and gave a great boost to the launch of the speaking portion of my business. As a fiction writer, I had a difficult time pinpointing the specific aspects of my personal story that I wanted to tell. Kim was able to give me great advice in our one-on-one session, as well as presentation strategies that I immediately put into practice. I'm very glad that I took her course!"
L.M., Novelist, Playwright, & Inspirational Speaker (www.lashandamichelle.com)
"Many of the public-speaking trainings that I'm exposed to credit humor & storytelling as the best ways to engage an audience, but few people do this well. I know that Kim's Speak Your Gifts program will help me to stand out in the corporate crowd."
A.P - IT Leader, Cisco
"With Kim's mentorship and resources, I've been able to start breaking down the walls to my better self. Those walls have been in place for years, but with this class, I'm finally tapping into my long-dormant creativity, recognizing the barriers in the way, and turning vague dreams into measurable goals.
Take this journey. Do it for the person you want to be. You deserve it!"
C.W.
Speak Your Gifts Student - Lashanda Michelle (Best-Selling Author)
TAKE A SNEAK PEEK INSIDE Speak Your Gifts!
Module 1: Cultivate The Message Within
Who Are You?
Identify Your Why?


Module 2: Clarify Your Message
Identify Your Core Values
Unlock Your Magnificent
Choosing Your Central Message


Module 3: Create Your Signature Story

Learn how to turn your Drama and Trauma into a message of Hope and Healing


Module 4: Captivate Your Audience

Learn to master storytelling techniques
Discover how to use humor to connect with your audience


Module 5: Convert Your Message into A Profitable Speaking Business
Learn how to Speak Your Gifts for profit
Go behind the scenes of the speaking business
Find out what you need to know to get started with your speaking business


Okay, so I just loooove giving gifts!
I know that with these 5 modules alone you'd be all set. But, I've browsed through my personal rolodex and I'm calling in 6 special favors for the last module to help you supercharge your gifts as well as your speaking business!


Module 6: Super Duper Bonus Featuring 6 Special Guests
* Shade Y. Ado, Branding Expert: Let's get you clear on your brand!
* Tieshena Davis, Publishing Expert: Let's get you a book deal!
* Marquesa Pettway, Speaker Expert: Let's uplevel your speaking skills!
* Denise Benz, Speaker's Agent: Let's learn what business tools you'll need to succeed as a speaker!
* Ashley Ann, Social Media: Let's learn how to use social media to get our brand seen!
* Kat The Course Builder: Let's learn how to adapt your story into to building your profitable course!
FREQUENTLY ASKED QUESTIONS
How long do I have access to the course?
How does lifetime access sound? After enrolling, you have unlimited access to this course for as long as you like - across any and all devices you own.
What if I am unhappy with the course?
We would never want you to be unhappy! As a matter of fact, we're confident you'll be 100% satisfied; however, we do have a 14-day money back guarantee. To receive a full refund, we ask that you 'show us your work' so that we can ensure that you put in your best effort to make the course a success for you.
What makes the Speak Your Gifts course different from other speaking programs?
There's no program like Speak Your Gifts in the public speaking space. Speak Your Gifts is a live experiential program. Imagine a real-life, premier academy online. We've got content rich lessons accompanied with action-packed video modules. Plus, you'll get exclusive access to your coach, Kim Coles, inside of a private mastermind group, via livestreaming, and during scheduled group coaching calls. The course is so interactive, you'll forget it's online!
Is there additional support offered for students in the course?
There certainly is! We're committed to our students' growth and success both collectively and individually. Along with the support of an active online community, you'll get direct email access to your coach Kim Coles.
What public speaking level do I need to be at in order to thrive in the course?
The beauty of Speak Your Gifts is that I meet you where you are. You can be a total newbie or a speaker who's booked lots of speaking engagements. What we focus on in the course is helping you discover your purpose and tapping into your truths. Leveraging the power of your authentic voice will benefit you regardless of your public speaking experience.
Can you guarantee my success as a speaker?
Well, I believe you can be a successful speaker and excel at anything you want to do in life. The key is, your effort, work ethic, and drive is your best indicator of whether or not you'll thrive as a public speaker or in business. So bring your "A" game and I promise I'll meet you where you are and will support you during your course experience and beyond. Truthfully, I can't guarantee your success but you have my word that we'll work earnestly to help you realize your public speaking goals.
I'm in! How can I pay and save my seat in the course?
Yay! Glad to hear that because I'm all in too. You can grab your spot in the course by clicking the button below and making a payment through the secure payment gateway on my course site.